CHAIN LINK CANDLESTICK HOLDER
Handmade in Philadelphia by a husband and wife team, Boonie's candlesticks are known for their quality and unique design. For years they worked in a small warehouse with no AC + no bathroom, grinding away at their dream! Fast forward and now they've been featured in Vogue, Vice + many other outlets. We fell in love the minute we saw them + we know you'll love them, too!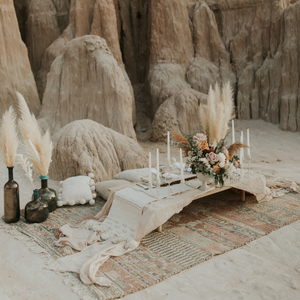 Here at Soothe & Sage we believe a home should be a canvas to showcase your own unique style. With that in mind, we have curated an online shop filled with home decor that will make your home feel more "you".
We strive to support artists + businesses that ethically source their products + materials. We think that when something is handmade, it really does add more character + love into your home. Ultimately, we believe in our products and the way they can change the entire feel of a room.
We hope you love everything just as much as we do!